AsTeRICS
---
AsTeRICS is a free and Open-Source graphical construction set for assistive technologies (AT). It allows the creation of flexible solutions for people with disabilities using a large set of sensors and actuators.
On this page you will find practical demos of the Building Blocks provided for the Prospertiy for All (P4All) project.
The demos rely on a customized demo release (asterics-prosperity4all-bb-demos, v0.2) of the AsTeRICS Runtime Environment (ARE) which was created with the AsTeRICS Packaging Environment (APE). If you want to know how to build the demos on your own, read the build instructions of the building blocks repository.
Download and install the demo release for your platform and start it. If you choose the .exe installer the ARE will start automatically. Please ensure to uninstall a previous demo release version. The demos are bundled into one installer file but could also be deployed with a seperate installer each. Demos

You can open the demo files with the "Choose a new model" button in the control panel of the ARE GUI. Some demos require additional SW or HW. The letters W (Windows), L (Linux), M (Mac) indicate the supported platforms for a demo. Below, you will find a selection of the contained demos, more are included and can be opened in the ARE GUI manually.

Note:
Press F7 to stop a demo model, in case it takes over mouse control.
Right click on the ARE GUI background to toggle visibility of control panel.
Camera Input
Objective
Mouse control (moving mouse cursor, clicking and dragging) by head movements.
Description
By moving the head up/down or left/right the mouse cursor should move accordingly. A left click is performed by dwelling (stopping movement and waiting for some time). To do a right, double or drag click select the respective button in the ARE GUI and move the cursor to the location where the click should be performed at. The mouse speed can be changed by using the slider. Click on the On/Off button to toggle mouse control.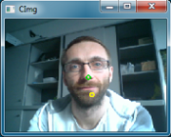 Requirements
Integrated Webcam or USB camera. OS: Windows, Linux, Mac OSX
Building Block
XFacetrackerLK
Plugins
XFacetrackerLK
Related Videos
Camera Mouse Demo Screencast
Camera Mouse Model Creation Screencast
Related Tutorials
Camera Mouse Creation StepbyStep Tutorial
Objective
Use eye movements and hovering to select user interface buttons.
Description
The demo shows a menu with buttons. Select (Click on) a button by looking at it for a certain amount of time. The border of the button indicates the hover time. A successful selection is shown in the "Selected action" field.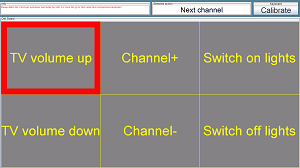 Requirements
Tobii EyeX eyetracker and installed SDK. OS: Windows
Building Block
TobiiEyeX
Plugins
EyeX
Smart Home Integration
Objective
This demo shows a user interface for a Smart Home environment integrating several technologies.
Description
The user interface can either be operated by scanning (press space for selection), mouse or camera mouse (head movement). There are submenus demonstrating remote control of TV, HiFi device, DVD player, Lights and Heating. If you select a button the action command sent to the respective device is shown in the "Debug output" window. Additionally the camera mouse (CameraMouse button) can be activated and deactivated and an onscreen keyboard (Keyboard button) can be started. There are some more demos in the subfolders for enOcean, KNX and FS20 environmental control technologies.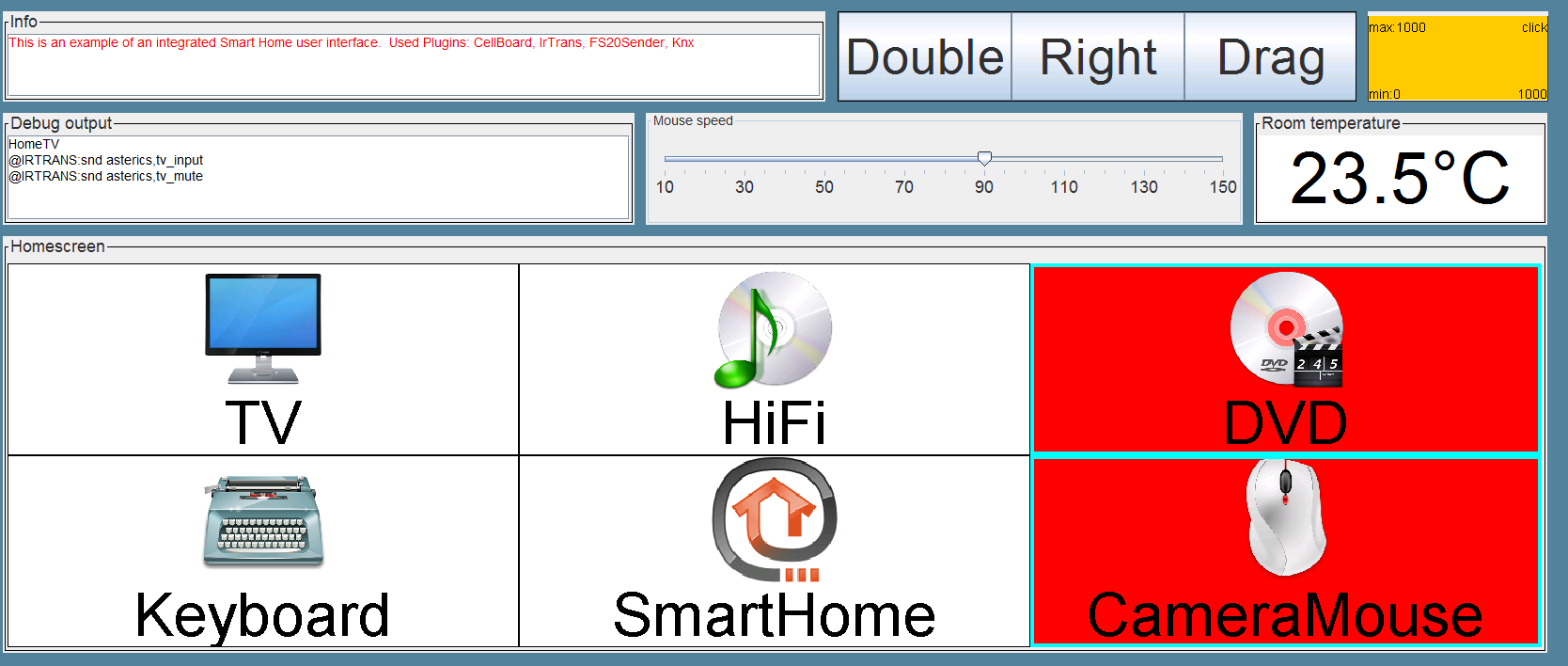 Requirements
Integrated Webcam or USB camera, KNX HW and configured KNX router and IRTrans. OS: Windows
Building Block
SmartHomeIntegration
Plugins
FacetrackerLK, KNX, IRTrans
Related Videos
Smart Home Integration Demo Screencast
Network I/O
Objective
Visualization of signal data in a web live chart using Javascript.
Description
The demo generates a sine signal and broadcasts the signal data through a websocket (ws://localhost:8082/ws/astericsData). The data is visualized in a Javascript live chart. You can also send data to the model by pressing the "Send test message" button.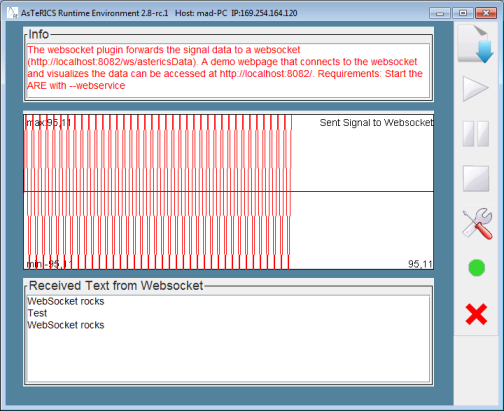 Websocket:
Received signal data
Requirements
OS: Windows, Linux, Mac OSX
Building Block
WebSocket
Plugins
WebSocket
Bioelectric Signal Acquisition and Processing
Objective
Filter a given biosignal (lowpass, bandpass, highpass) with butterworth filter.
Description
The demo IIRFilter-Bandpass(WLM).acs generates a signal (Sine, 20Hz, Amplitudes: +-100) which is filtered with an IIR filter (bandpass, butterworth, order=10, fc1=10Hz, fc2=20Hz). The demo IIRFilter-ReadEDFdata(WLM).acs reads a recorded EEG signal, filters it and triggers midi sounds according to the magnitude of the signal.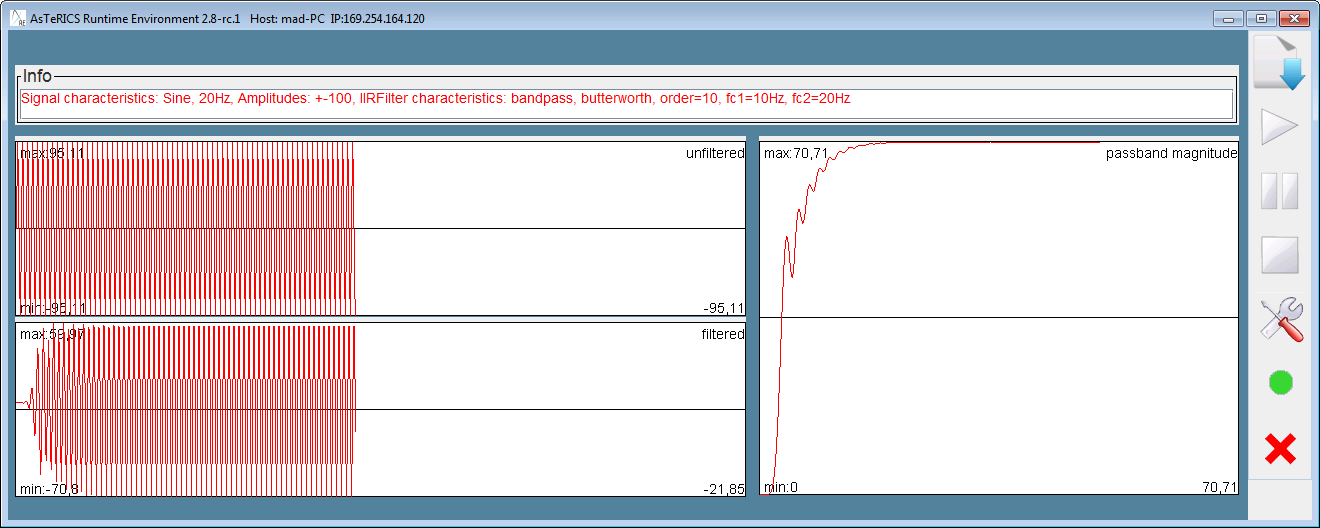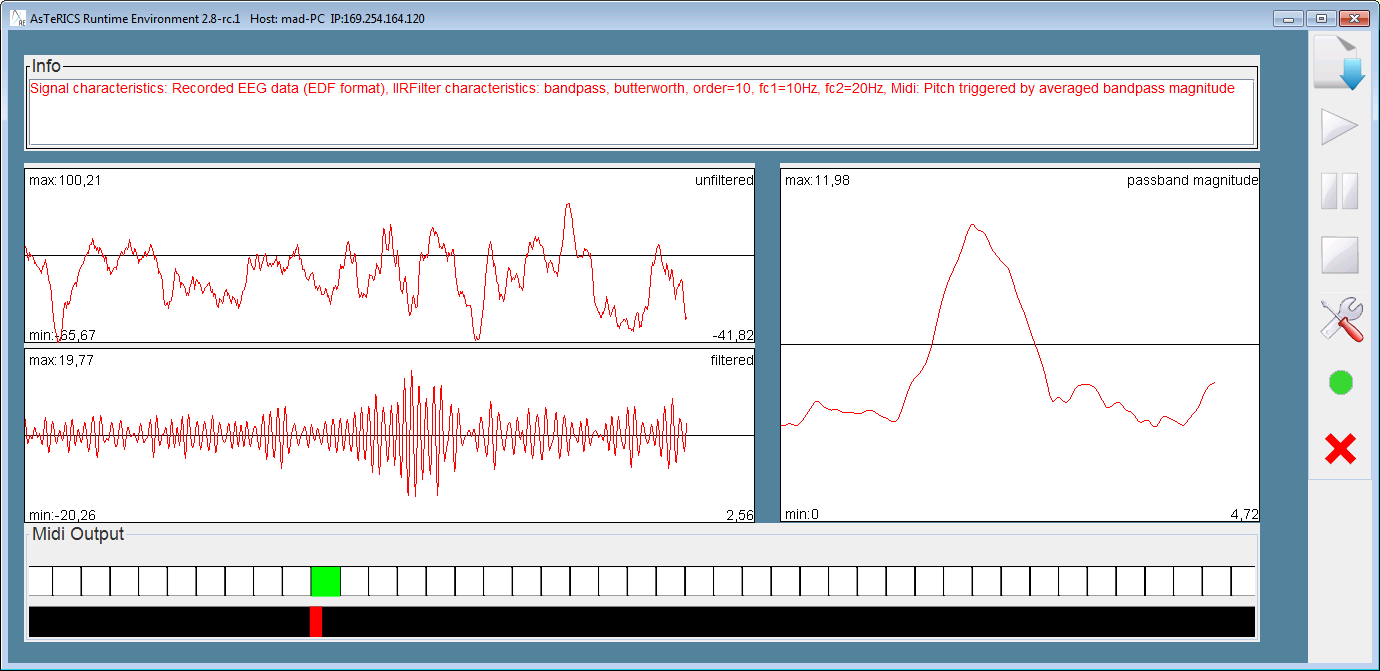 Requirements
OS: Windows, Linux, Mac OSX
Building Block
IIRFilter
Plugins
IIRFilter, MidiPlayer